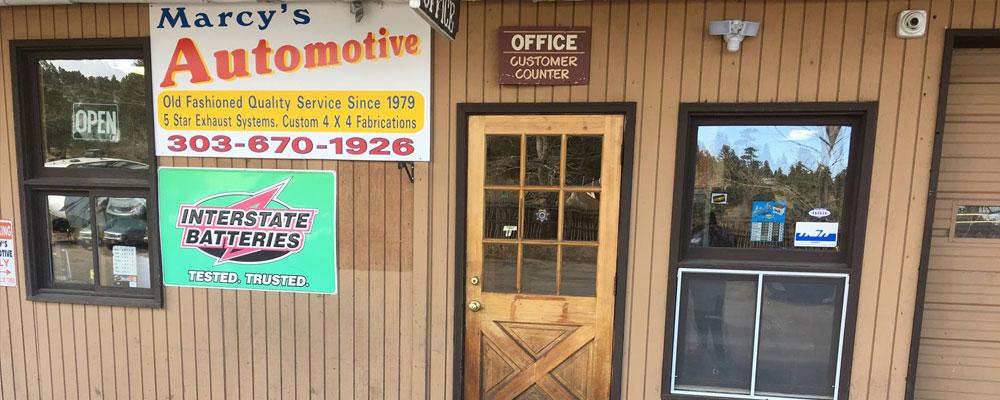 Turn to Marcy's Automotive for all of your auto repairs and vehicle maintenance needs.
Marcy's Automotive has been in business for almost 40 years and we still love what we do. In 1979, Marcy's first came into business in Indian Hills and moved to Evergreen in 1982.
Providing automotive repairs and maintenance services is only the "what" of Marcy's Automotive. For customers across the Denver foothills, including Conifer, Bailey, Evergreen, Pine and the surrounding areas, our customers are the "why".
Evergreen has a large Subaru and Jeep population that depend on Marcy's Automotive's repair and service expertise. We know our customers and what they need. More importantly, we know what they don't need. They don't need another shop in the area telling them that something is wrong when it isn't, and they don't need to worry when they bring their vehicles in for service.
Marcy's Automotive is a family-run business and our customers are a part of our family. The Marcy's family has been extremely involved in the communities of Evergreen and Conifer. As a member of both Chambers, and having donated to our schools, communities and many social projects, Marcy's Automotive is proud to have serviced our communities with the highest of quality service.
At Marcy's Automotive we believe it is important to…
Be honest with our customers
Know what is best for you and your vehicle
Treat everyone with the same level of respect
Reasonably price our services
Guarantee and provide quality work
Understand that your car is important for not only traveling, but safety
Remain locally-owned, operated
Always be committed to the community before anything else
Our experts have the knowledge to service and repair even the most challenging auto problems on all makes and models of domestic and import vehicles. We use the latest technology to assess the situation and offer you a solution that best fits your family. We guarantee our work and know you'll be happy with the outcome, today and for years to come.
Whether we're doing something as minor as an oil change or something as major as rebuilding an engine, it's all about building your trust. Feel free to read through our website to learn more about us, we also encourage you to call or stop in to meet our friendly and dedicated staff and discuss your car care needs. Our customers know us as a company that can be relied on, and trusted with quality care of their vehicles, and that's a reputation we strive to maintain!
Stop by 6949 So. Hwy 73 in Evergreen Colorado or give us a call at (303) 670-1926 to make an appointment today. We look forward to working with you!